You are here

The 6 Question's You Should Ask Your Advisor About Long-Term Care
The 6 Question's You Should Ask Your Advisor About Long-Term Care
Submitted by Liberty Wealth Management on August 30th, 2016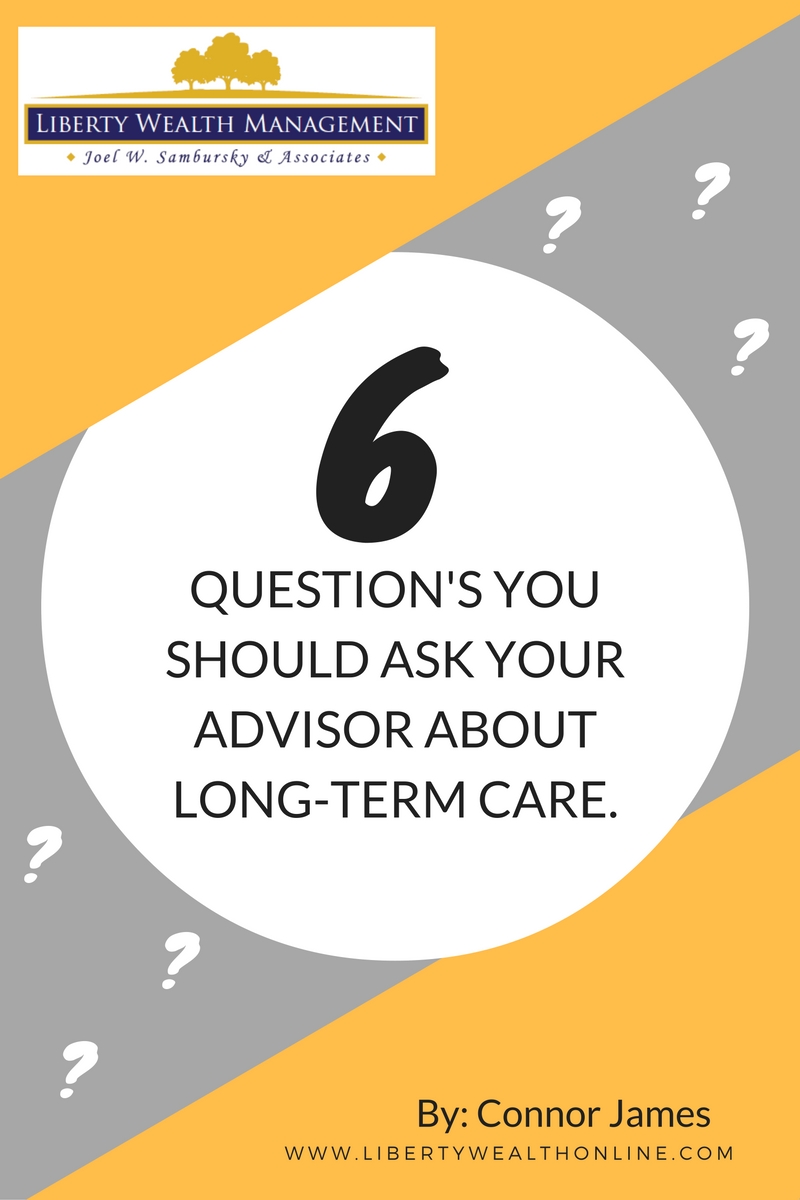 How are you supposed to know what questions to ask when you don't really know what options you have?
There is so much information out there and it can be hard to figure out how it relates to your situation. I want to equip with some questions that can help you decide if long-term care is right for you.
Is Self-Insurance An Option For Me?
Self-insurance is using existing accounts or assets to insure the potential risk of care being needed down the road.
A reputable financial professional shouldn't propose coverage that you don't need. They can only answer the question above if they have a clear understanding of what your goals are and what you have saved to help you achieve them.
A strong long-term care plan has to account for existing assets and income streams. If it doesn't you could be overpaying for a coverage that you may never have to use. Your professional needs to be able to show you how self-insurance is not a prudent option.
What type of long-term care insurance is this?
The days of a single type of LTC insurance are long gone. There are at least three types of coverage now. At a minimum, you should be educated on the basics of each type before submitting an application.
1-Traditional Coverage
2- Life Policy With A Long-Term Care Rider
3- Hybrid Long-Term Care Policy
Some insurance advisors may only have access to one type of coverage. If that's the case they need to explain to you how their coverage offering is a better fit for you than the other two.
Do You Typically Submit a Cover Letter With an Application?
The questions on an insurance application are trigger questions. They're written in a way that "alerts" the insurance company about potential concerns. In their defense they are taking on a risk so we can't expect them to insure you blindly.
Simply put, most applications do a poor job of identifying positive health habits. A cover letter can be used to highlight these habits and show the quality of life that an applicant is trying to pursue.
What Happens If I Never Use The Policy For Care?
Depending on the type of coverage there are a couple of answers you might be looking for…
"The coverage for care will be passed on to your spouse."
"Your heirs will receive a death benefit."
"We insured a risk but never used the policy."
It all depends on what type of coverage they can offer. That is why is it very important that you ask them the first question.
Will This Policy Provide Care Coordination Support?
You might need care or you might not. Regardless, fast forward to that moment. What do you want that to look like? Are your children the ones who are calling the various care providers trying to identify which company would be best? Is it your spouse?
Some insurance companies have invested in offering support for families during this time. This is a benefit of long-term care insurance that can fly under the radar. Make sure your financial professional understands if these types of benefits come with the coverage that is being considered.
Is this policy reimbursement or indemnity?
There is a difference in how insurance companies pay out long-term care claims.
Some insurance companies pay claims through reimbursements. Others provide their coverage through the indemnity method.
The difference between these two may not seem like much. However, the varying methods of payment could be vastly different for the family members that are coordinating the claim payments.
A financial professional who offers either type should be able to explain both methods and how they might impact your family.
In Closing
I didn't write this hoping to make your next meeting with your advisor a question and answer session. I'm equipping you with these questions because long-term care planning is important.
Important to the role that your family will play if you were to ever get sick and need care.
Important to your ability to control where that care takes place at.
Important to the other financial goals you have and making sure there is protection in place to insure them.
Proper long-term care planning should be more than a product or special type of policy. It's a discussion about maintaining financial independence and control. I think we can all agree that's a discussion that deserves some answers. Schedule an appointment today to talk with your financial professional about this topic.